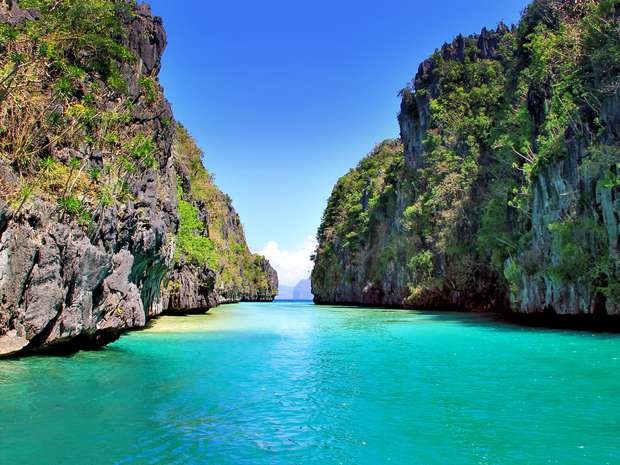 Imagine white fine sand and clear blue waters. Then imagine yourself relaxing on a hammock under the green leaves of the coconut trees, looming in to give you shade. Then you can dig your toes under the sand and bask under the sun on a perfect beach. CNNGo considers this place as the Best Beach and Island destination in the Philippines due to its "extraordinary splendour and ecosystem." This tropical paradise is called El Nido, a first class municipality in Palawan, Philippines. El Nido is just 420 kilometres southwest of Manila, and 238 kilometres northeast of Palawan's capital, Puerto Princesa.
Features
El Nido offers you a wonderful location for island hopping, diving, and kayaking. It is home to 888 species of fish and five species of marine turtle, with a quarter billion year-old limestone cliff, four archeological sites, 45 islands and over 2,000 hectares of mangrove. El Nido is also home to over a hundred species of birds.
Island Hopping
El Nido is perfect for island hopping because it is home to 1,780 islands. Unlike other countless tourism beach destinations in the Philippines, El Nido is still scarcely populated, which means, you can enjoy the islands without much disturbance from other tourists or party people and their loud music.
Attraction
Palawan is considered as "The Last Ecological Frontier of the Philippines," and El Nido is one of its main tourist attractions. El Nido offers you crystal-clear water, flora and fauns, and pristine beaches.
Transportation
It takes about 55 minutes of flight time from Manila to El Nido. This travel path may be a bit expensive, but it is the easiest and fastest way to get there.  The cheapest way to get to El Nido is via land from Manila to the capital of Palawan, Puerto Princesa. There are travel tours online that can give you the best tour packages to El Nido.